Ethanol Blending Program – What is the opportunity for Indian manufacturers in Ethanol production and why it can precipitate a "Gold Rush" moment?
https://qwixpert.com/wp-content/uploads/2023/07/Eco-Fuel.jpg
979
489
qwixpertadmin
https://secure.gravatar.com/avatar/392f1042eaff5c1f343a179d15026010?s=96&d=mm&r=g
Executive summary
India imports ~84% of its oil requirement. Ethanol Blending Program (EBP) is being promoted with vigour to help conserve foreign exchange, provide massive employment opportunities, increase farm incomes, reduce petrol prices and meet carbon emission targets. Oil Marketing Companies, with direction from the Government of India, are placing substantial orders for Ethanol to meet the 10% EBP target by 2022 and 20% by 2025. However, we are facing a massive shortfall in production. As against a target requirement of 900 Cr. litres annually, India's current annual capacity is 467 Cr. litres. Interest subventions, capital subsidies, tax waivers etc. are expected to prop up interest among manufacturers to invest in Ethanol production across the country. 361 projects have been approved in-principle to produce ~444 Cr. litres annually. State level schemes are expected to take this number higher as investors are enticed with additional benefits. Bihar has become the 1st state to launch an Ethanol Production Promotion Policy. More states are following suit with attractive schemes.
India's oil import dependence is very high and needs immediate solutions
In a worrying forecast, BP Energy Outlook 20201 estimates that India's oil and gas import dependence will double by 2050. At 84%2 oil import dependence, India imports ~227 Mn metric tonnes3 of Crude Oil every year. India has seen a quadruple rise since 1999-00 in its oil imports when ~57.8 Mn. Metric Tonnes of crude oil were imported. Although the growth in oil imports has slowed from 10.7% YoY in the 2000 – 2010 vs ~3.6% YoY in the 2010 – 2020 period, reducing import dependence on a long-term basis is more critical than ever.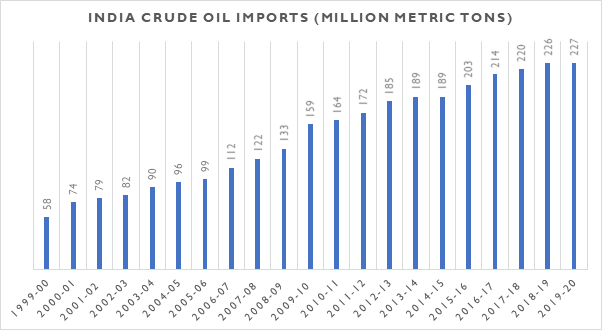 Fig1: India Crude Oil Imports – FY2000 to FY2020; CAGR = Compound Annual Growth Rate
The National Policy on biofuels-2018 has been drafted with the express need to reduce fossil fuel import dependence by 10% in 2022 from the 2014-15 levels. The Indian Prime Minister has stated in multiple forums that India's oil dependence is to be brought down to 67% by 2022 when the country would celebrate 75 years of independence4. The goal also was critical as reducing oil imports would mean conservation of foreign exchange, lesser carbon emissions, lower fuel prices for the common man and an opportunity for indigenous entrepreneurs / products. With a growing economy this has been a difficult dream to achieve.
Ethanol Blending Program can help reduce import dependence but has progressed slowly
Ethanol Blending Program (EBP) has been identified as one of the levers to achieve this goal. The program started in 2003 with a resolution to sell 5% Ethanol Blended Petrol in 9 states and 4 Union Territories. This was made possible by distilleries using excess raw material (molasses or sugarcane) to produce ethanol. As sugarcane production faced a glut, this provided a succour for farmers who had to otherwise sell their harvest at extremely low prices. The benefits for all stakeholders involved was obvious and the country took to it in earnest. However, sugarcane production would not be abundant enough to meet future targets of 10% EBP by 2008 or 20% at an unset future date. Despite these initiatives, ethanol blending took off only post 2014.

Fig2: Ethanol Blending in Petrol – Blending quantity and ratio. Year is calculated between Dec – Nov5,6
The subsequent National Policy on Biofuels set out to address supply issues. The extension of ethanol as biofuel production from non-sugarcane sources such as cellulose, lignocellulose was also found insufficient to meet EBP targets. The ethanol that is produced is being used for other purposes as well – As ENA (Extra Neutral Alcohol) for alcohol production (Indian Made Foreign Liquor and Indian Made Indian Liquor) and as Industrial alcohol. Diversion of alcohol production to ethanol will have severe ramifications from a societal and economic standpoint. These have made the government look for alternate sources.
National Biofuel Policy, 2018 incentivizes ethanol production with affirmative measures
In 2018, the policy widened the scope to include feedstock. Further, the Government announced a reduction of GST from 18% to 5% on denatured alcohol. An interest subvention scheme for manufacturers – "Scheme for augmenting and enhancing ethanol production capacity". Further, the Government has periodically revised upwards, the price of procurement by OMCs to ensure sustainable revenue generation for ethanol manufacturers. The price for ethanol from sugarcane juice, sugar, sugar syrup is now at Rs. 62.65 per litre, B-heavy molasses ethanol at Rs. 57.61 per litre and C-heavy molasses ethanol at Rs. 45.69 per litre. GST and transportation charges are also additionally payable by OMCs7. OMCs have also fixed the Basic Rate of procurement for ethanol from Damaged grains at Rs. 51.55 per litre and from surplus rice procured from Food Corporation of India at Rs. 56.87 per litre.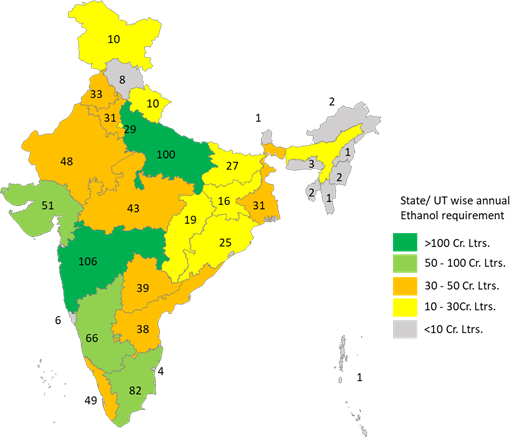 Fig 3: State wise Ethanol requirement for blending in Cr. Ltrs by 2024-25 to achieve 20% blending
Fuelled by these positive forces, the Ethanol Supply Year 2020-21 (Dec'20 to Nov'21) has seen record blending rates. In the first 4 months (Dec'20 to Mar'21), 100 Cr. litres have been supplied leading to a blending rate of 7.2%8. Several states – Goa, Maharashtra, Karnataka, Gujarat, Uttar Pradesh, Haryana, Uttarakhand, Punjab, Delhi and Himachal Pradesh – are also close to achieving the 2022 target of 10% EBP. Sugar industry predicts India could end the year with an 8% EBP.
Steep targets for 2022 and 2025 and supportive Government schemes are expected to fuel future demand; Departments are clearing projects at breakneck speed
With the government targeting 20% blending by 2024-25, Ministry of Consumer Affairs, Food & Public Division estimates the annual requirement to be 900 Cr. Litres9. However, with a total supply capacity of only 427 Cr. Litres and highest annual supply for EBP @ 188 Cr. Litres, India faces a huge shortfall to achieve this target. This indicates the massive push for new projects setting up ethanol production across the country. As per the ISMA (India Sugar Manufacturer's Association), the Department of Food & Public Distribution has approved 361 projects which will increase capacity by an additional 444 Cr. Litres / annum. 53 projects which will contribute 62 Cr. Litres / annum have already received sanction and disbursal under the interest subvention scheme.
6 states, Uttar Pradesh, Maharashtra, Karnataka, Andhra Pradesh, Punjab and Bihar have evinced maximum interest from manufacturers due to their proximity to raw material – Sugarcane / Molasses and Feed stock (Maize, Rice etc.). The approved projects have also been extended soft loans from banks and the approximate interest subvention is expected to be Rs. 4,045 Cr. for a period of 5 years.
Individual states are following the Central Government and want to cash in on the vast employment generation opportunity
Bihar, has gone ahead by becoming the 1st state to introduce an ethanol production promotion policy11. Apart from the interest subvention offered, the policy has several additional perks for investors.
The policy permits production of ethanol from all feedstock, including surplus quantities of maize.
A 15% capital subsidy on the cost of the plant and machinery up to a maximum of Rs. 5 Cr.
Additional capital subsidies (0.75%) or upto a maximum of Rs. 5.25 Cr. for special class of investors – SCs/ STs/ EBCs/ Women, differently-abled, war widows, acid attack victims and third gender entrepreneurs
Stamp duty and registration are also to be waived off while land conversion fees is expected to be revoked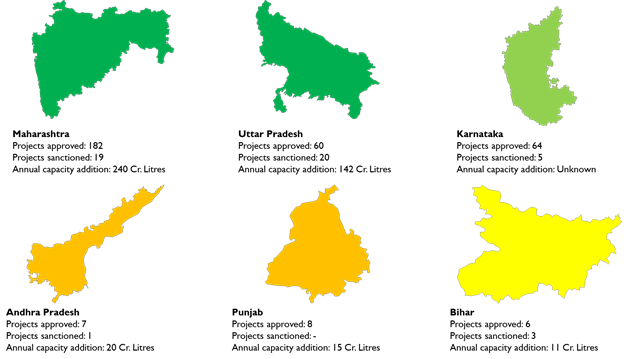 To attract investments, subsidies, incentives & schemes as part of Ethanol Production & promotion policies are being offered by every state. For instance, the policy laid out by the Jharkhand Government12 has proposed a 25% subsidy on fixed capital upto Rs. 50 Cr. for non-MSMEs and Rs. 10 Cr. for MSMEs. Further, employee skill development subsidies worth Rs. 13,000 per employee and monthly ESI & EPF contributions to the tune of Rs. 1,000 per employee for a period of 5 years are also expected.
Other states are also expected to follow suit as India has moved forward the EBP target of 20% from 2030 to 2025. These present a massive opportunity to ethanol manufacturers while ensuring India saves Rs. 12,000 Cr. worth of oil imports over the next 4 years.
The diversion of molasses & sugarcane to ethanol production is expected to impact Extra Neutral Alcohol and Rectified Spirit manufacturing. Distilleries have modified their distillation columns to produce the more remunerative ethanol. IMFL manufacturers are hence looking to ringfence sourcing through own investments, long-term sourcing contracts and backward integration to protect raw materials such as molasses and broken rice.
About the Authors:
Mr. PN Poddar
Mr. Poddar is a Former, Senior Vice President and Head of Distillation, United Spirits Ltd. He has over 40+ years of experience in design, set-up, commissioning and profitable operation of distillation plants for Ethanol, Extra Neutral Alcohol, Malt Spirit production and ZLD (Zero Liquid Discharge) systems.
Mr. Giridharan Raghunathan
Giri has 9 years of management consulting experience. Giri specializes in Food & Beverages, Retail and Automotive sectors. He leverages customer insights and analytics to drive growth and profitability for his clients.
References:
Our Bureau (2020), "India's oil and gas import dependence to more than double by 2050: bp Energy Outlook 2020", The Hindu Business Line, 14 Sep. Available at: https://www.thehindubusinessline.com/economy/indias-oil-and-gas-import-dependence-to-more-than-double-by-2050-bp-energy-outlook-2020/article32600221.ece
PTI (2019), "India's oil import dependence jumps to 84 per cent", The Economic Times, 05 May. Available at: https://economictimes.indiatimes.com/industry/energy/oil-gas/indias-oil-import-dependence-jumps-to-84-pc/articleshow/69183923.cms?from=mdr
Data for crude imports and exports. Available at: https://www.ppac.gov.in/content/212_1_ImportExport.aspx
PTI (2019), "India on track to cut oil import dependence by 10 per cent by 2022: Pradhan", 06 Nov. Available at: https://energy.economictimes.indiatimes.com/news/oil-and-gas/india-on-track-to-cut-oil-import-dependence-by-10-per-cent-by-2022-pradhan/71937504
Anjan Ray (2020), "World Biofuel day webinar: Biofuels for Atmanirbhar Bharat: Bio-ATF and Room temperature Biodisel", 10 Aug. Available at: http://petroleum.nic.in/sites/default/files/WBD_10aug20.pdf
Ethanol Blending status. Available at: https://www.bharatpetroleum.com/pdf/EBP-Programme-progress-23-11-2020-d3ad1d.pdf
PIB Delhi (2020), "Cabinet approves Mechanism for procurement of ethanol by Public Sector Oil Marketing Companies under Ethanol Blended Petrol Programme – Revision of ethanol price for supply to Public Sector OMCs for Ethanol Supply Year 2020-21", 29 Oct. Available at: https://pib.gov.in/PressReleseDetail.aspx?PRID=1668399
Mukherjee, Sanjeeb (2021), "At 7.2%, India blends record ethanol with petrol in first 4 months", Business Standard, 05 Apr. Available at: https://www.business-standard.com/article/economy-policy/at-7-2-india-blends-record-ethanol-with-petrol-in-first-4-months-121040500016_1.html
Ministry of Consumer Affairs, Food & Public Distribution, Depart of Food & Public Distribution (2021), "Implementation of Policy for extending financial assistance to project proponents for enhancement of their ethanol distillation capacity or to set up distilleries for producing 1st Generation (IG) ethanol from feed stocks such as cereals (rice, wheat, barley, corn & sorghum), sugarcane, sugar beet etc. – Reg.", 14 Jan. Available at: https://sugarethanol.nic.in/assets/Pdfs/LetterofImplementationofpolicy.pdf
Industry Research (2020), "Ethanol capacities, supplies and targets: October 2020", 14 Oct. Available at: https://www.careratings.com/uploads/newsfiles/Ethanol%20Capacities%20Supplies%20and%20Targets%20October%202020.pdf
Arora, Sumit (2021), "Bihar becomes first state to have own ethanol policy", Current Affairs Adda 247, 22 Mar. Available at: https://currentaffairs.adda247.com/bihar-becomes-first-state-to-have-own-ethanol-policy/
PNS (2021), "25 % subsidy for investors for ethanol production" Daily Pioneer, 28 Jul. Available at: https://www.dailypioneer.com/2021/state-editions/25—subsidy-for-investors-for-ethanol-production.html