The organised food market will lead the next phase of growth within consumer goods; the segment has lagged at ~15% penetration compared to 90%+ penetration of non-food FMCG segment. The 11% growth is largely driven by rising spending propensity, evolution of customer choices towards healthier options and growth of convenience food segment.
How the Indian Consumer is changing?
What are they eating?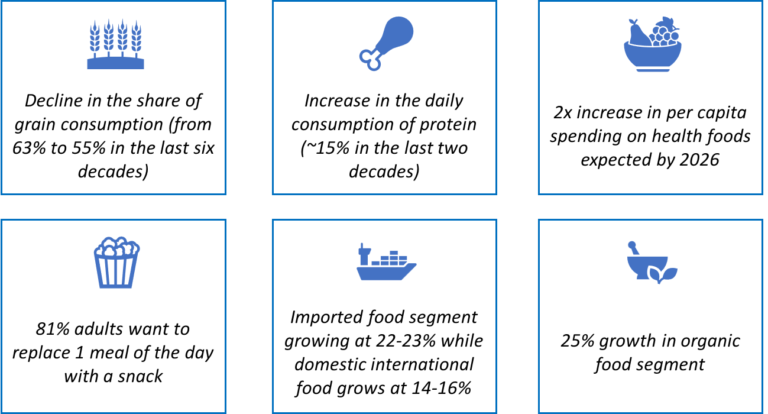 In the ever-changing landscape of the packaged foods segment, we have identified several key trends that brands must address to stay competitive and succeed:
Increasing range of customer preferences: Today's Indian millennials have diverse and evolving tastes comprising of a mix of localised flavours, healthy options and global cuisines. To capture the attention of these customers, brands must focus on three crucial aspects:

Localisation of products: Food preferences vary not only by state but also by region. Brands can no longer adopt a one-size-fits-all approach but need to evolve and consider localized preferences. At Qwixpert, we have collaborated with a dairy producer to analyze customer taste differences based on demographics such as region, gender, and livelihood. This profiling has enabled us to recommend new product variants that can increase market share and cater to specific customer preferences.
Niche segment identification: The convenience factor and growing health-consciousness have led to the emergence of niche but fast-growing segments such as ready-to-eat foods, frozen foods, healthy snacking, and organic foods. These segments are outgrowing the industry at 20%+ CAGR. Qwixpert has successfully partnered with companies to identify lucrative business expansion opportunities in both the Indian and export markets. By utilizing iterative shortlisting based on market size, growth outlook, operational and regulatory complexities, and potential for synergy, we have recommended targeted products and developed comprehensive go-to-market (GTM) strategies to achieve 10% share and revenue growth within five years and Rs. 150 Cr. topline.
Preference for Global Cuisine: Indian consumers have developed a taste for global cuisines, with imported food segments experiencing remarkable growth of 22-23% while traditional food growth is 9-12%. At Qwixpert, we specialize in assisting global brands in formulating GTM strategies for the lucrative Indian market. Our services encompass target group identification, recommendations for product development and pricing strategies, and guidance on selecting the right sales and distribution channels.
Volatile raw material prices that impact margins: The changing climatic conditions and increased geopolitical risk led to inflationary pressure on raw materials. In FY22, the price of input commodities wheat and maida by 7-8%, gram and gram flour by 6-8%, and milk and sugar by ~1% had put massive pressured on margins and brands responded by lowering grammage and increasing prices by ~ 10%+. With prices stabilising now, the brands are undoing the measures they'd taken, but in a volatile market it becomes very important to secure future supply of material. Qwixpert can help devise a procurement strategy on how to handle commodity price fluctuations, establishing sustainable supply source, balance between inventory carrying and stockout.
Building brand equity in a highly competitive landscape: Brands face intense competition from private labels, direct-to-consumer (D2C) brands, unorganized food segments, and traditional packaged food manufacturers. To remain a part of the shelf space, mind space and wallet share, brands must connect with customers in a meaningful manner, offer better value for money, ensure availability at stores, and keep up with the latest taste and packaging trends. Qwixpert's in-house analytical tools empower you to derive insights from sales data, gaining a deeper understanding of your target group and delivering superior value to them. We can help you identify potential new products, optimize your product-market mix, and develop pricing and promotion strategies that generate better returns on your investments.
Quick commerce and distribution: The online grocery segment if projected for 53% growth between FY21 and FY25, with hyperlocal delivery companies like Zepto, Dunzo, and Swiggy Instamart gaining popularity, particularly in Tier-1 cities. Keeping up with the momentum and by in-roads in Tier 2/3 cities, the segment is expected to grow by eight times over the next 5 years. While brands focus on driving online sales, it is equally essential for the general trade segment to evolve and remain competitive as they serve the mass market. We have assisted FMCG companies in determining the right margins and incentives for their general trade partners. This ensures their continued relevance in the evolving market and drives sales growth and efficiency improvement. We have also assisted an FMCG company in developing overall logistics network (in-bound and outbound) that factors in the low shelf-life of product and ensures cost-effective distribution within the required service level. Through primary node selection (DC's and CFA's), right linkages for stock transfer and by secondary route optimisation; Qwixpert identified potential for ~20% supply chain cost reduction.
In an industry with a strong growth outlook, Qwixpert believes that the winning formula lies in understanding your target segment and efficiently servicing the market.
What can we do?
Our Solutions for Packaged Foods Industry
Business Strategy
Revenue Generation
Profitability Enhancement
Profitability Enhancement
Our insights
In the financial year 2022, the Food and beverage industry in India has shown promising growth with an industry median of 21%. However there has been a dip of -12% in ROCE resulting in industry median of 15%.