Digital in numbers, but not the numbers corporate India is used to seeing
In this day and age, yesteryear business metrics such as revenue growth or profit margins, cannot adequately summarize the nascent yet vibrant digital industry. The reason why we call it nascent is that despite several decades of existence and investment, there is this overwhelming feeling of not having unearthed more than the tip of the iceberg. If you are still not convinced, just glance at the chart below.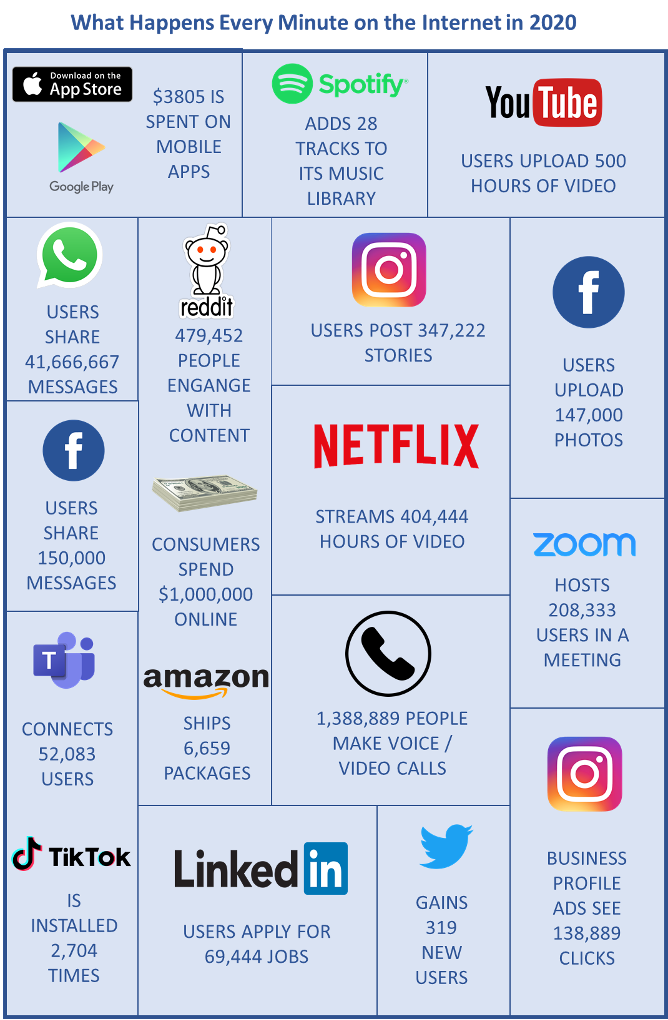 No other industry today spawns so many innovative business models, many of which were launched from the comfort of a couch. The disruption to traditional industries due to these businesses is vast and almost immediate. Like most of you, we at Qwixpert have been repeatedly astonished by the progress made in thought and action by these businesses. "Digital" also dominates discussions in the corporate world, so much so that if a word cloud of all corporate utterances were to be created, "Digital" would probably take center place in the largest font size.
As "Digital" increasingly permeates our world, we have attempted to organize and structure it into a "Landscape." We have limited our research to only Digital B2C businesses. The "Digital Landscape" is essentially a 2×2 matrix with "Business Model" and "Revenue Model" as its axes. These axes are defined as below
Business model – What is the product/ service? How is it offered to or experienced by the consumer?
Revenue model – How do they make money?
Business models can be classified into three kinds basis how consumers interact with the offerings on the digital platform
Aggregator – This is the often heard of marketplace model where a platform is provided for manufacturers/ service providers to interact and transact with potential customers. E.g., "Swiggy" is an aggregator platform for restaurants.
Own products – The digital platform is essentially a touchpoint to interact with customers for their products or services. E.g., Byju's is a learning platform where consumers can access Byju's own content.
Hybrid – Here, the digital platform is a touchpoint for own products and hosts products from other manufacturers/ service providers. The own products offered by the platform owner may or may not differ from products listed from other suppliers. E.g., Amazon has a hybrid business model where listings are of individual brands and Amazon's private labels.
While the fine print on business contracts will reveal subtle differences in their revenue generation models, four principal types stand-out
Advertisements – Businesses pay for promotions and advertisements of their products/ brands on these platforms. E.g., Consumers are not charged for "Google searches" or "Facebook accounts," while these companies generate the bulk of their revenues from ads and sponsored content.
Commissions – The platforms take a % of revenues or profits from every transaction that happens through it. E.g., Uber takes commissions on every ride booked on its app
Markup – The platforms purchase/ build/ manufacture products for a certain cost "X" and sell to consumers at "X-plus" through the digital platform. The key difference with the "Commissions" model is that the platform owns inventory, thereby running the risk of sitting on dead stock. E.g., BigBasket is an online food and grocery retailer which holds the inventory of the products sold on the platform
Subscriptions – Consumers pay a specific amount on a set frequency – Monthly, Quarterly, etc. – to access the platform. E.g., Netflix subscriptions to access their content
We have tried to "landscape" several industries into a 2X2 chart – Business Model X Revenue Model. While it is not an exhaustive list, a wide variety of companies operating in the following five industry sets are covered
Retail – General Retail, Food & Grocery, Durables, Fashion, and Home décor
Entertainment & Leisure – Social media, OTT, News, Gaming, Music, and Gifts
Productivity – Education, Recruitment, Financial Services, Books, and Open Source
Hospitality & Transportation – Automotive, Travel and Real Estate
Services – Health & wellness, Household help, Matrimony, and Virtual meetings
While companies do have hybrid revenue models, a separate category has not been carved out, but both are highlighted in case multiple revenue models are present. E.g., LinkedIn generates revenues through advertisements as well as subscriptions.
Retail – General Retail, Food & Grocery, Durables, Fashion, and Home décor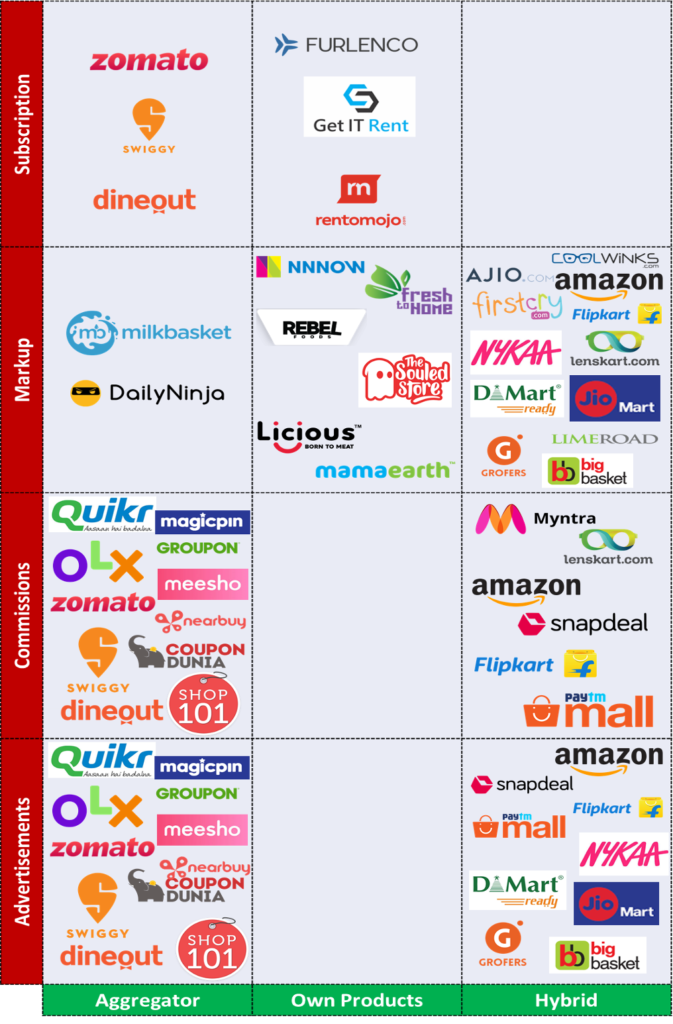 Entertainment & Leisure – Social media, OTT, News, Gaming, Music, and Gifts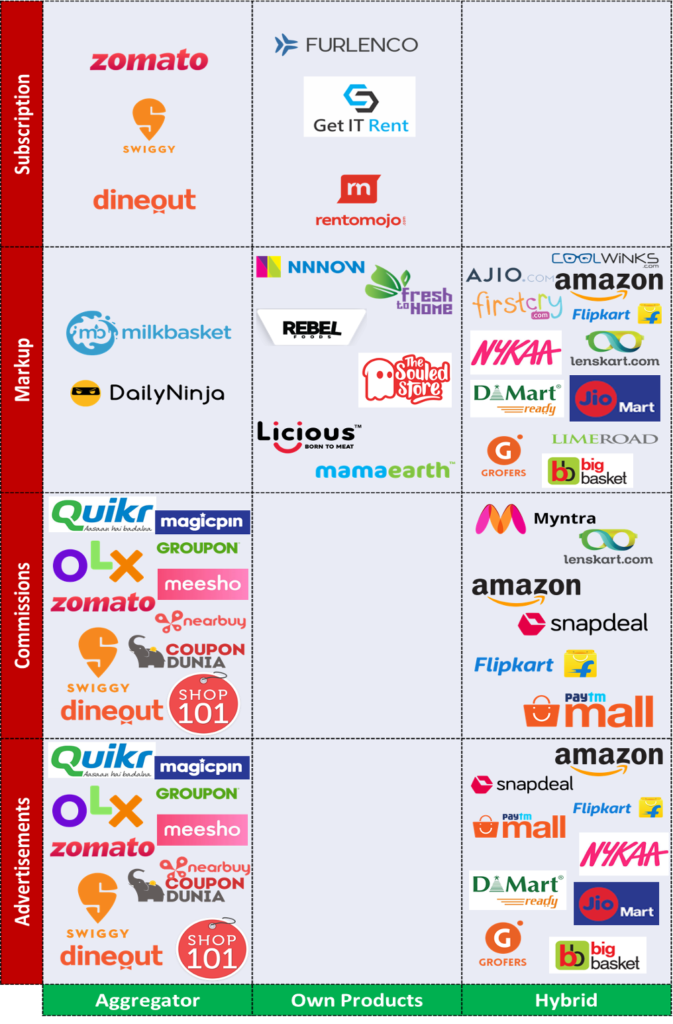 Productivity – Education, Recruitment, Financial Services, and Open Source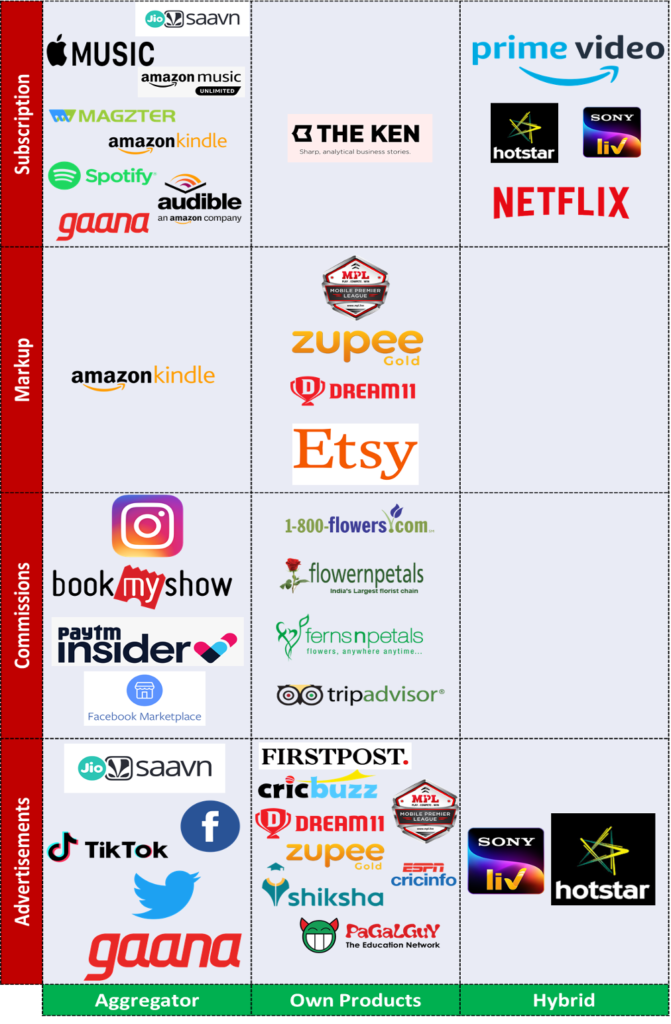 Hospitality & Transportation – Automotive, Travel and Real Estate
Services – Health & wellness, Household help, Matrimony, and Virtual meetings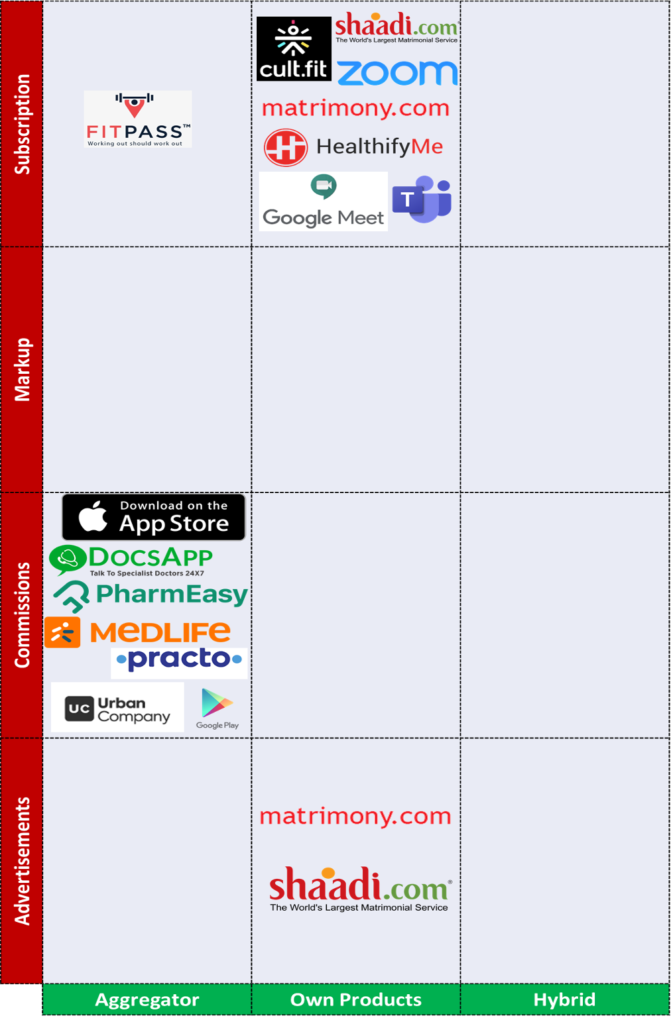 Sources:
Websites of companies highlighted